Accessing your Pushbio account means getting access to your dashboard, edit your account and start creating bio page, create Vcard link, create QR Codes, shortened links and arranging them into projects
---
Logging In
To login into your Pushbio account:
Click on login from the homepage or directly visit https://app.pushbio.io/login;
Enter your registered email address and password into the appropriate field;
Click on login, and you will be granted access to your dashboard.
---
Understanding the User Dashboard
The user dashboard on Pushbio provides fast and reliable access to the features and services we offer. From your dashboard, you get a sneak peek at the following:
Total Biolinks
Total Links
Total File Links
Total Domains
Total QR Codes
Total VCard Links
In addition to the quick access you get from your dashboard, you can also filter the data set presented to you while also having the ability to export data in several file formats.
---
Managing Your Account
Also, your profile icon is on the top right corner of your dashboard page. This gives you access to other aspects of Pushbio that are not directly displayed on the dashboard.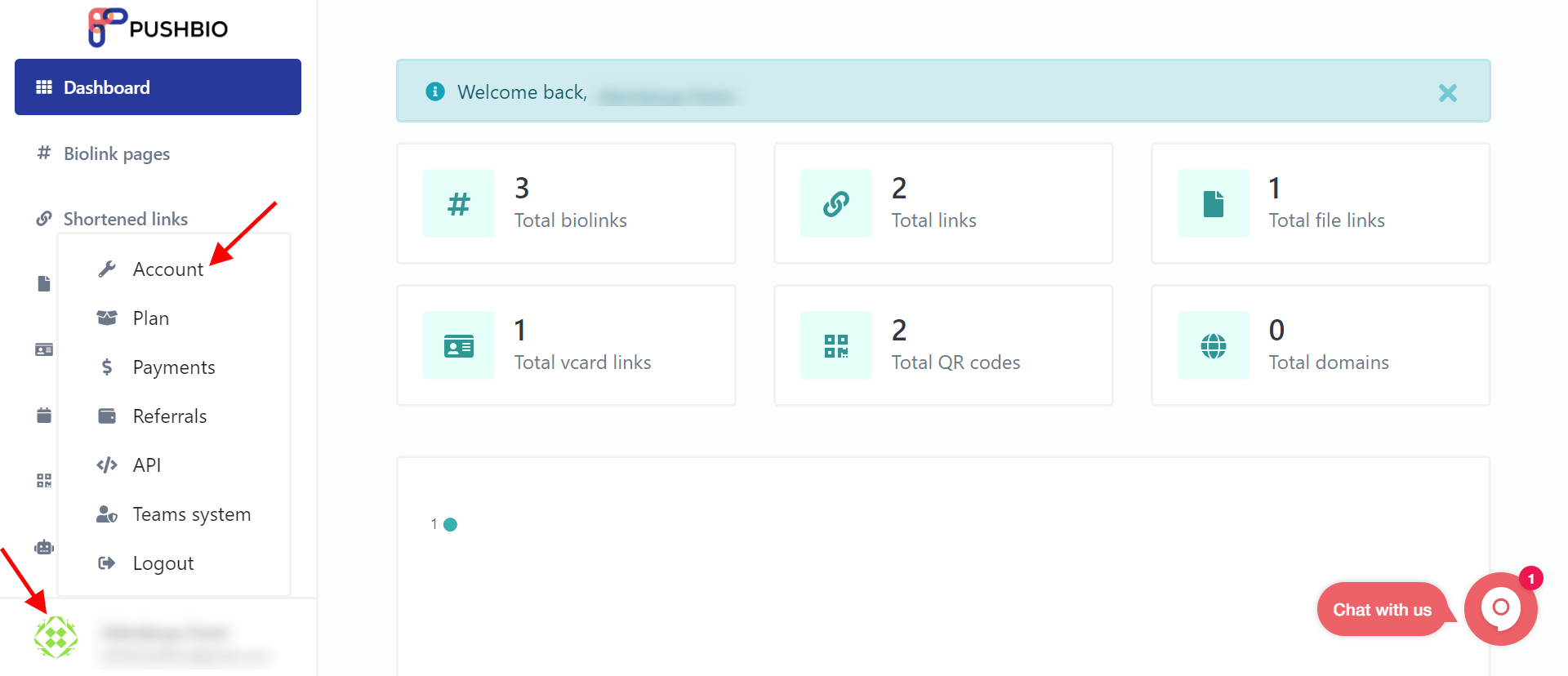 From here, you can access the following:
My Account
Upgrade to a paid plan
Use other tools provided
View payment processors
View payment history
Access your projects
Leverage our affiliate program
Request for API
Check teams system
---
Editing Your Pushbio Account
Getting on the Pushbio platform is just one of the steps; you also have to set up your account if you wish to maximize the potentials we offer.
Editing your account lets you add additional information you want to make available. To do this;
Click on the "My Account" tab under your profile;
From here, you can edit basic profile settings;
You can also edit your name and email address and include a time zone;
For an added safety measure, you can include an anti-phishing code. This allows you to validate the authenticity of every mail you get from us, ensuring you have one less thing to worry about as we serve you and your needs.
Once you are done with editing, click on the "Update" tab to save your information.
---
Changing Your Password
To make changes to your current password, you can do so in the Change Password section
Enter your current password
Enter the new password and repeat the new password in the next field
Finally, click on Update button to save the changes
---
Deleting Your Pushbio Account
Although it saddens us to see you leave, you can delete your account anytime you wish.
Thankfully, we make it easy to do this in simple steps:
From your dashboard, click on your profile icon;
Next, click "My Account";
Locate the Delete account tab on the page and click it;
Enter your current Pushbio account password;
Click on the "Delete" button.
Once done, your Pushbio account will be deleted. This action is irreversible, and all data associated with your account will be erased and lost forever.